[HWPL]
[HWPL] HWPL's WARP Office Joined Opening Ceremony of a Buddhist Temple!
Chairman ManHee Lee is the head representative of the global peace organization HWPL (Heavenly Culture, World Peace, Restoration of Light), which is striving for the enactment and implementation of the international peace law 'Declaration of Peace and Cessation of War (DPCW)'. The DPCW is a legal instrument comprised of 10 articles and 38 clauses that can end wars and hostilities throughout the world. HWPL is also spreading a culture of peace and implementing peace education.
Chairman ManHee Lee experienced the cruelty and tragedy of war as a veteran of the Korean War. This is one of the reasons why he founded a global peace campaign as the head of HWPL. He has traveled the globe more than 35 times to meet and persuade politicians, legal experts, journalists, professors, peace activists, civil organization leaders, heads of tribes and others to unite them for the work of peace. The significant fruits borne out of his hard work are the World Alliance of Religions' Peace (WARP) Summit and HWPL Peace Committee. The DPCW was drafted and finalised by the HWPL Peace Committee.
How, you may wonder, do I know this? About 10 years ago, when I had just been discharged from military service, I came to know HWPL and Chairman ManHee Lee while researching the topic of civil conflicts to satisfy my curiosity in ongoing global issues. At that time, the island of Mindanao in the Philippines was suffering from a major civil conflict that lasted more than 40 years, and Chairman ManHee Lee and HWPL resolved this conflict through non-violent means.
Chairman Lee brought an end to the conflict in Mindanao by holding a peace talk between the warring Catholic and Islamic groups. Before the talk, HWPL and Chairman ManHee Lee held a Peace Walk to spread the culture of peace in Mindanao with the many locals who had gathered out of a desire for peace.
Chairman ManHee Lee's pressing appeal today is that humanity unites for sustainable peace in order to pass on the legacy of peace to future generations worldwide. He doesn't just talk peace, but has worked tirelessly for it through practical peace campaigns for over a decade.
I decided to become a supporter of HWPL and Chairman ManHee Lee's peace initiatives because I also desire a world of peace for all posterity.
Today I'd like to introduce an article from HWPL official homepage regarding the WARP (World Alliance of Religions' Peace) Office.
Opening Ceremony of Gwangju Yongmunsa temple Inter-Religious Alliance Office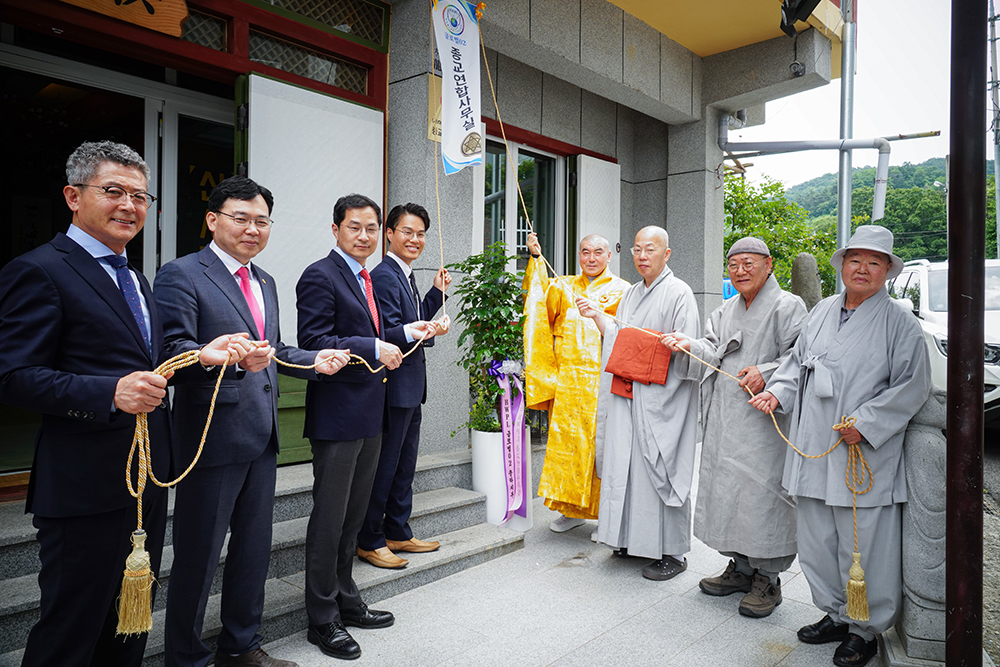 On June 5th, the plaque unveiling ceremony for the Interfaith Office of the HWPL Global 02 branch took place at Yongmunsa Temple in Duam-dong, Gwangju Metropolitan City.
Monk Seongjong, the chief monk of Yongmunsa Temple of Hyeonjo Gyejong of Korean Buddhism, has been an active member of HWPL for a long time. He expressed his hope for a space where religious practitioners could come together without prejudice, engage in dialogue, understand each other, and resolve conflicts to achieve peace.
The event was attended by Monk Seongjong, the chief monk of Yongmunsa Temple; Monk Hyeonjong, the chief monk of Hwarimjeongsa Temple in Gwangju; Monk Hyesung, the chief monk of Suhyosa Temple in Damyang; Monk Byeokam, the chief monk of Mireuksa Temple in Jeollabuk-do; Kang Gu Yeong, HWPL Head of Global 02; and Park Jae Young, Head of the Religion Department at HWPL Headquarters.
Monk Seongjong welcomed the continuous support and volunteering efforts of HWPL members, which revitalized the temples despite a decline in religious visits during the pandemic. He emphasized the importance of cooperation among different religions and mutual respect to achieve world peace, echoing the fundamental message of peace that "all religions are one," as promoted by HWPL's chairman, Man Hee Lee.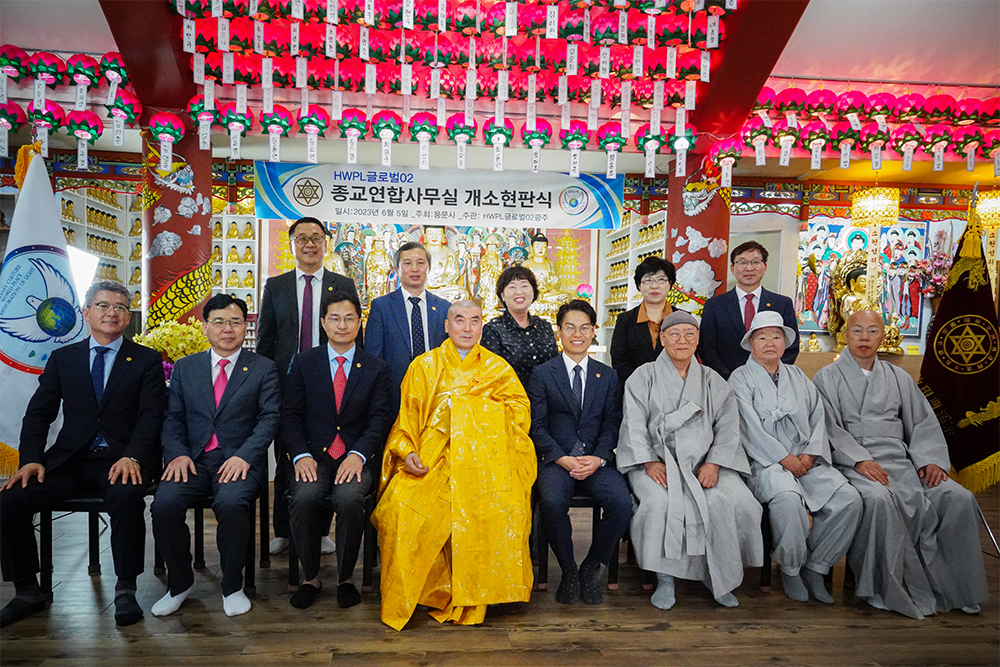 Kang Gu Yeong, Head of HWPL Global 02, expressed his hope saying "Today, we greet the solar term season of sowing the seed of grain. Thanks to the guidance of nature, I wish the seed of interfaith unity would spread from Yongmunsa Temple." and urged everyone to remember that this event was being observed by all beings in heaven and earth.
Park Jae Young, Head of the Religion Department at HWPL Headquarters, thanked Monk Seongjong for embodying the action of promoting peace, which is often spoken about, but not always put into practice. He hoped that through learning and working together, Yongmunsa Temple would become a space of love and peace.
Monk Byeokam, who attended the ceremony, was deeply moved by the establishment of the HWPL Global 02 Interfaith Office at the temple and vowed to work even harder for peace in cooperation with the global 12 branches of HWPL in the Jeollabuk-do region.
Going forward, HWPL Global 02 aims to actively operate the Interfaith Office at Yongmunsa Temple as a communication platform for interreligious harmony.
Interested in HWPL's peace work for the world? Please visit following link :)