[HWPL]
[HWPL] HWPL Hosted Cameroon Human Rights Webinar for National Development
Chairman ManHee Lee is the head representative of the global peace organization HWPL (Heavenly Culture, World Peace, Restoration of Light), which is striving for the enactment and implementation of the international peace law 'Declaration of Peace and Cessation of War (DPCW)'. The DPCW is a legal instrument comprised of 10 articles and 38 clauses that can end wars and hostilities throughout the world. HWPL is also spreading a culture of peace and implementing peace education.
Chairman ManHee Lee experienced the cruelty and tragedy of war as a veteran of the Korean War. This is one of the reasons why he founded a global peace campaign as the head of HWPL. He has traveled the globe more than 35 times to meet and persuade politicians, legal experts, journalists, professors, peace activists, civil organization leaders, heads of tribes and others to unite them for the work of peace. The significant fruits borne out of his hard work are the World Alliance of Religions' Peace (WARP) Summit and HWPL Peace Committee. The DPCW was drafted and finalised by the HWPL Peace Committee.
How, you may wonder, do I know this? About 10 years ago, when I had just been discharged from military service, I came to know HWPL and Chairman ManHee Lee while researching the topic of civil conflicts to satisfy my curiosity in ongoing global issues. At that time, the island of Mindanao in the Philippines was suffering from a major civil conflict that lasted more than 40 years, and Chairman ManHee Lee and HWPL resolved this conflict through non-violent means.
Chairman Lee brought an end to the conflict in Mindanao by holding a peace talk between the warring Catholic and Islamic groups. Before the talk, HWPL and Chairman ManHee Lee held a Peace Walk to spread the culture of peace in Mindanao with the many locals who had gathered out of a desire for peace.
Chairman ManHee Lee's pressing appeal today is that humanity unites for sustainable peace in order to pass on the legacy of peace to future generations worldwide. He doesn't just talk peace, but has worked tirelessly for it through practical peace campaigns for over a decade.
I decided to become a supporter of HWPL and Chairman ManHee Lee's peace initiatives because I also desire a world of peace for all posterity.
Today I'd like to introduce Cameroon Human Rights Webinar for National Development that was hosted by HWPL last April, let's read the article to how HWPL is working for the world peace in Cameroon.
Cameroon Human Rights Webinar for National Development
-Institutionalization for Peaceful Coexistence-
On April 15, the "Cameroon Human Rights Webinar for National Development" was held to raise awareness of human rights and peace, hosted by HWPL. Lawyers, law and political science students, a project manager of NGO, and figures from peace education and IPYG attended the event, titled "Institutionalization for Peaceful Coexistence," to find the answer for peace.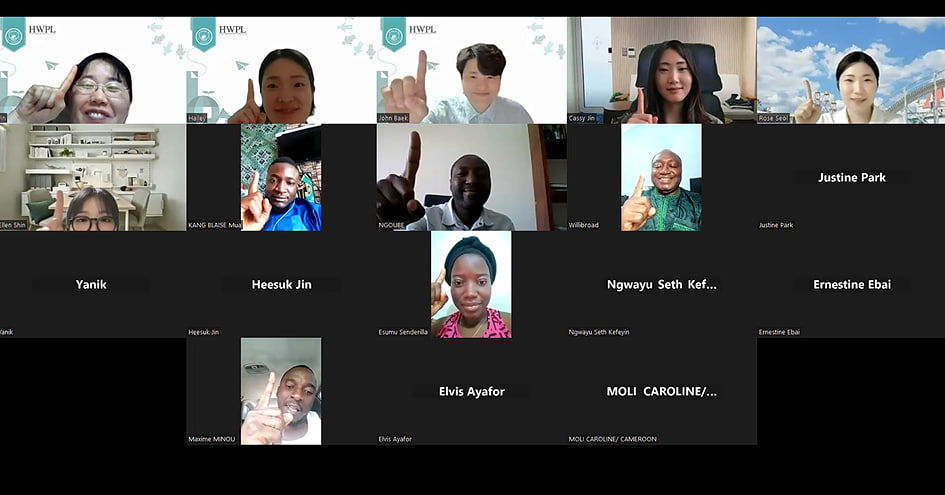 Cameroon was colonized by France and Britain after the defeat of Germany during World War I. After its independence, English and French became the official languages, but only about 20% of the people spoke English and the rest spoke French, causing conflicts between the speakers of the two languages. Then, in 2018, when the authority of French-speaking people who are the majority was expanded, the dispute began with English-speaking people who felt discriminated against. The situation became worse as the government responded violently against the nonviolent protesters.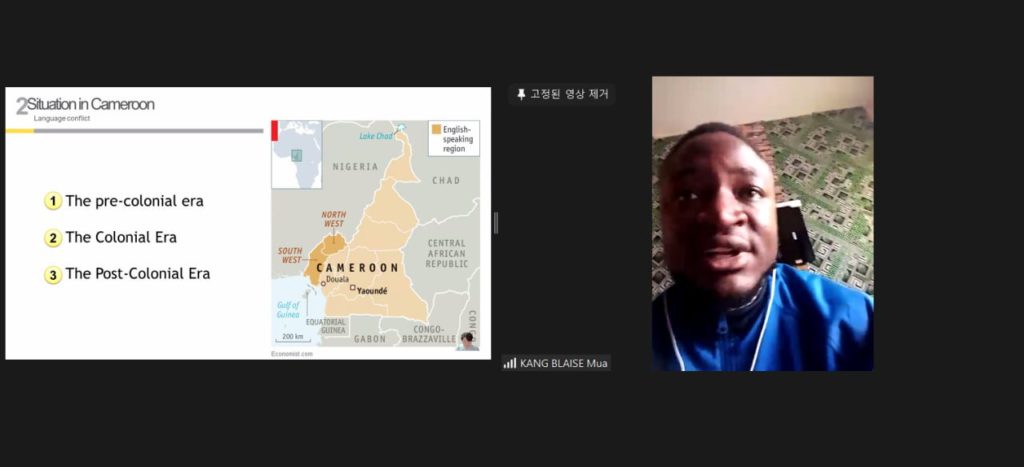 Regarding this, Kang Blaise Mua, the President of the Student Association of the Law and Political Science at the University of Buea, said "There is a need to redress governmental strategy, such as a call for major national dialogue and assistance from other peace organizations around the world.".
Willbroad Dze- Ngwa, the President of Heritage Higher Institute of Peace and Development Studies, emphasized the importance of peace education, saying "Peace education is taught in some of our schools. What we have to decide to do is to establish clubs in different schools in order to carry on peace and effective citizenship. If we multiply this webinar, our context, and our strategies, peace would reign in all the corners of Cameroon and the world. Because each of us is supposed to be an active factor of peace education.".
Through this webinar, participants were able to recognize that peaceful coexistence is needed for the national development of Cameroon. For peaceful coexistence to be achieved, three elements were presented. They were: peace education that helps children recognize the importance of peace and grow up as peaceful citizens, the establishment of gatherings to resolve disputes through dialogue rather than force, and international law that can present a new paradigm for peace.
HWPL introduced the Declaration of Peace and Cessation of War (DPCW), an international law for peace, and the Mindanao case where peace came true based on it, as well as peace education and Youth Empowerment Peace Class (YEPC) and Youth Engagement & Peacebuilding Working Group (YEPW).
Interested in more peace initiatives of HWPL? Please visit following link to check out :)
HWPL Official Homepage